AST 2 - Avalanche Skills Training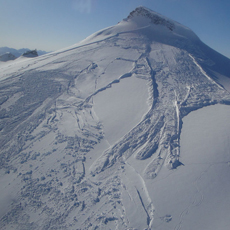 Duration: 4 Days (approx.)
Product code: PIIHIP
AST Level 2 Whistler takes you to bigger
mountains, further places, wilder terrain. If you're looking to take it a
few steps further, this course is for you. Experience four days of
hands-on Avalanche Skills Training in the backcountry, immersed in the
challenging terrain to push your knowledge beyond its limit. We offer
intimate group sizes taught by professional mountain guides who are
committed to teaching you the skills required to be safe, have a blast,
and further elevate your backcountry career.
OBJECTIVES
At the end of the course, students should be able to:
Use
the Avaluator™ as a filtering tool to determine when additional
planning and travel techniques are required to travel safely.
Be familiar with Avalanche Danger Ratings verification techniques for personal use on a local scale.
Be familiar with the ATES technical model as a means to develop personal, local terrain ratings.
Use route finding to take advantage of nuances in terrain to manage personal risk.
Use travel techniques in avalanche terrain appropriate to the avalanche conditions.
Proficiently carry out a companion rescue.Understand the limits of their training.
Cost
$585 + 5% gst
ITINERARY
Day 1
8:30 - Classroom session
- Leadership and travel in avalanche terrain
- Avalanche characteristics
- Companion rescue
- Decision-making support systems
- Route Planning
12:00 - 4:30 or as early as possible - Whistler/Blackcomb Backcountry:
-Field session
5:00 - 6:00 - Classroom session:
- Day wrap up
- Finalize plans for hut trip.
- Understanding avalanche forecasts
- Weather
Day 2- Field session
8:00 - Meet in Whistler to coordinate car pool.
9:00 - Leaving parking lot
- Field session
After dinner classroom session:
- Avalanche danger exceptions
- Local danger verification
- Trip planning
Day 3 - Field session/trip
After dinner classroom session:
- Q and A
- Forecast analysis
- Confidence in decision-making
Day 4 - Field session/trip
Back to the cars @4:30
Depending
on group requirements a custom schedule can be arranged. Please contact
Altus Mountain Guides for more information and meeting times. Typically
if a group is arranged, 4 days consecutively works best. This is a
intense course and requires a full 4 days of training. Again contact
Altus Mountain Guides to arrange your custom course that meets your
timeline.